<!-- [et_pb_line_break_holder] -->
T.J.C. Clyde received the N.A.S.M.A. 2003, 2004, 2006, 2007, 2008, 2009, 2010 & 2011
Leading Jack Award. 2012 N.A.S.M.A. Hall of Fame jack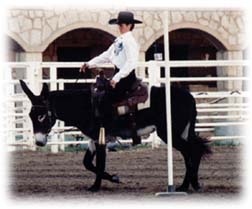 If ever there was a donkey that could be called a "Living Legend" it would have to be TJC Clyde. Through Cindy Brasfields hard work and love, she continued a trend with Clyde that we here at Genesis Farms wholeheartedly promote, that of proving potential breeding sires in performance as well as in halter. During Clyde's show career he went coast to coast undefeated in Donkey Western Pleasure and his Halter accomplishments have been monumental. Clyde's offspring are stamped with his beauty, his peaceful disposition and his flowing movement.
His progeny have gone on to dominate in the show arena as halter and performance champions. Clyde came to us as a completed Masterpiece, and although we are the proud new owners, he will always be synonymous with Cindy Brasfield. We intend to honor Cindy's efforts to build a "better donkey" by limiting his use on jennets to those of superior quality and by invitation only.
In the way of all things living, with birth comes death.
The arc of a life, the rise and set of the sun, the rush and fade of the tide. Kat and I have taken a few days to be alone with the knowledge that TJC Clyde has come to the close of his day.
We have shared this news only with those people who were either family to Clyde or family to us.
Clyde began his life with Tom and Jean Chapvil of TJC Farm in Arizona. At 14 months he was purchased by Dr. Cindy Brasfield of Alabama. Cindy and Clyde went on to have the prototype show career that those of us that followed in their foot steps fought hard to duplicate. With Clyde, Cindy showed the rest of us to come what was important to develop in the new future of the highest quality of mule sire. With them a divergence happened with donkey selection and promotion, they created two clearly defined choices, that of the traditional jack stock or of premium saddle mule sire. With Cindy, Clyde produced some of the finest, most notable mules this country has ever seen. His mules are expressions of Clyde's brilliant genetic code, something magical happened each and every time he sired a mule.
When Clyde came to us I had such a profound respect for the level of success and depth of relationship that Cindy and Clyde had shared, that I looked upon our ownership of him as that of caretaker. It seems such a strange reflection now, but Clyde was never ridden again once he left Cindy. I felt it was hallowed ground left undisturbed as a show of respect.
At Genesis Farms, Clyde went on to bring to performance donkeys that level of pure grace and elegance that only he had the capacity to do.
He has sired so many profoundly beautiful and talented donkeys over the course of his life, he will not fade from view and his place in the future is assured. Clyde's sun will shine on us through his sons and daughters beyond our lifetimes.
We have all been graced with his being, we are all standing in the quiet of his dusk.
TJC Clyde
14.1 hand, Black Catalonian Jack4/2/1993 to 8/29/2016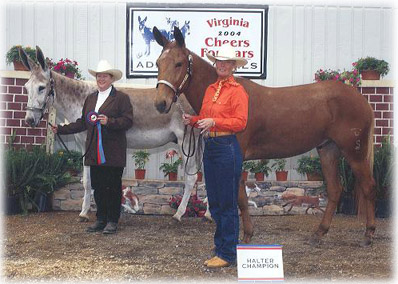 2004 is starting off with all new big wins for Clyde's offspring. At the 2004 Cheers for Ears Mule and Donkey show held in Virginia. Clyde's babies went Champion Model Donkey and Champion Model Mule. He also sired the top 4 winners of the 4...
read more