<!-- [et_pb_line_break_holder] -->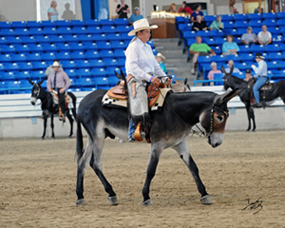 This 2005 son of A-Jacks El-Gato is one of those rare gifts you get every once in a great while.Out of the jennets we bred to Gato before we gelded him, we only had one jack. Out of Hollyfield's Shy Ashley, he is his dam's last foal. He represents both the extreme athleticism of his sire and the pure, sweet charm of his mother. I could not have asked for anything better than this one perfect blend of two crazy good donkeys.
Rey has size, beauty, temperament and that "lopeability" that we strive for here at Genesis Farms. For a donkey that is so thickly built you might imagine that he is a heavy, sedentary mover, you could not be more incorrect. He is naturally light, supple and his endurance is like no other donkey I have ever ridden. His disposition is not like your grandfathers breeding jack. He can easily transition from a pasture breeding situation to the show ring, always a gentleman.
We will be producing many sons and daughters from Rey each year, we will be focusing on passing on those brilliant traits that have touched this jacks family from generation to generation.