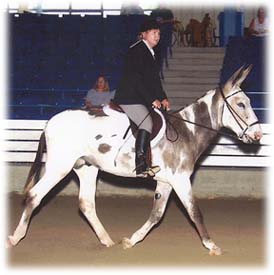 In 2003 we retired Prince from the show ring. He had accomplished so much in the two and a half years that he campaigned we frankly felt he deserved the luxury of staying home. From his very first show at the Buckeye Classic in 2001, where he went Champion Model Donkey to his very last show in October of 2003 at the North Carolina State Fair where he was also the Champion Model Donkey, Prince has packed in a phenomenal number of Model Donkey and High Point Donkey wins. During 2003 he was Champion Model Donkey at three "A" rated shows where he was also High Point Performance Champion.
Not an easy accomplishment, and a very rare one for a jack. 2003 also brought several other Champion and Reserve Champion titles in both Halter and Performance. In addition Prince came away with the NASMA World Champion title in the Keyhole race and the Reserve NASMA World Champion title in Donkey Ride and Drive. He has won the NASMA Reserve Champion High Point end of year title for the years 2002 and 2003 with end of year division Championships in Driving and English. He is a talented, well mannered, beautiful jack that is a joy to work with and own.
In addition to Prince's accomplishments in the show ring has been the excitement of his offspring. They are correct, easy tempered, gorgeous mules and donkeys that move with balance and agility. When used on good gaited mares, he has thrown gait, producing a long lateral stride that eats up the ground yet is smooth to ride. Prince has young mules entering the show ring, already making an impact with Reserve World Champion titles to their credit."
Prince is a "Classic Jack", to be sure!
It is with great sadness that we share the news to our friends, family and colleagues that our magnificent, beautiful jack, Jarratt's Desert Prince, has passed. For no better way of describing it, we are reeling from his loss. He came to us as a two year old, and for the last 15 years he has been a solid fixture in our lives. As a jack he has produced some spectacular offspring, as an individual he has been a sweet, gentle donkey that was a joy to work with, always a gentleman, always a love. Dearest Prince, our beloved boy. 7/6/1998 to 1/15/2016
Jarratts Desert Prince
1998, 59 inch Tri-Colored Paint Jack
7/6/1998 to 1/15/2016